PRICING DOG WALKING--For Salem Residents
For a half hour walk it's $14.00 each visit. Cash or check is fine. It includes a half hour walk, changing water bowls, treats, food if needed and picking up doggie poop during the walks. And yes, lots of pats & belly rubs too! Your dog will be walked alone all the time with no other clients dogs at the same time.
*For two dogs in the same household it's $16.00 per visit- half hour visit and $2.00 each additional dog.(Salem resident pricing)
*Two or less visits or walks a week is $16.00 per walk.
*For outside of Salem:
$15.00-$17.00(depending on area, please contact me for more info) for a half hour visit

I also will provide you with daily email updates and daily notes on how your dog did.

For frequent visits a day while you're on vacation it's $42.00 per day.(visits up to three times a day which includes feeding, changing the water , & 3 walks.)
For two visits a day it's $28.00 (That's Salem residents pricing. Please contact me for pricing out of Salem)

***PLEASE ALLOW AT LEAST 2 WEEKS PRIOR TO VACATION CARE TO CONTACT PAWS AND PURRS TO ALLOW ENOUGH TIME TO SCHEDULE MEET & GREETS & ECT***

Hour walks are $20.00 per hour walk for Salem residents and $25.00 for out of Salem.
Last minute walks(24 hour notice or less) it's $25.00.

For visits on holidays it's $25.00 for a half hour walk. Visits up to three times a day it's $60.00.

Holidays are Dec. 24th & 25th, Easter Sunday, Memorial Day, July 4th, Labor Day, & Thanksgiving.
Cat Sitting:
For cat sitting it's $12.00 per visit for Salem residents & $15.00 per visit for out of Salem. That includes feedings, changing the water bowl, daily notes on how your cat did, sifting the litter box, & lots of playtime, affection, & pats.
For complete cleaning of litter box, which includeds dumping out old litter, cleaning the box, and adding new litter an extra $5.00 added.
***All pets must be up to date on shots & rabies. YOU MUST PROVIDE VET PAPER WORK STATING THIS ON BOTH DOGS & CATS***
One of my kitties, Boobie-Lu!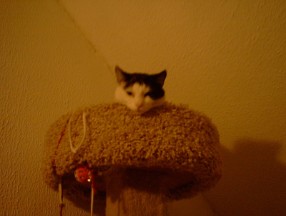 My other kitty Tigger, Boobie-Lu's brother!