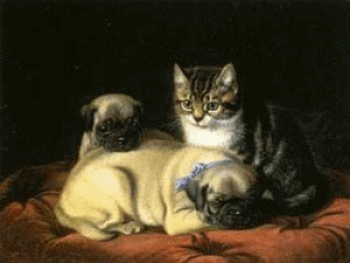 Hello!
My name is Diana & I am the sole owner of Paws & Purrs.
Paws & Purrs Dog Walking Services & pet sitting considers its' specialty to provide love & care to your dog or cat. Paws & Purrs provides a responsible, caring adult (either myself or my husband Luie who works for me also in helping with the dog walking or dog or cat sitting) to be your dog's or cat's friend and walker each weekday afternoon. Busy work schedules often make it difficult to give your doggy the amount of attention and exercise he/she needs. Our service helps loving, but busy, dog owners keep their dogs happy.
We also provide dog or cat sitting service at the owners home.
References can also be provided upon customer request. What I usually do for new clients is a free "meet & greet" at the owner's home for free. This is a great opportunity for me & my husband to meet your pet & to discuss his or hers needs. All pets must be up to date on vaccinations & rabies & I need to see or have a copy of that in order to proceed. A copy of your house key is needed also.
I am also insured through Pet Sitters LLC.